Best Rooftop Bars in Scottsdale
Editor
March 14, 2023
Dining, Scottsdale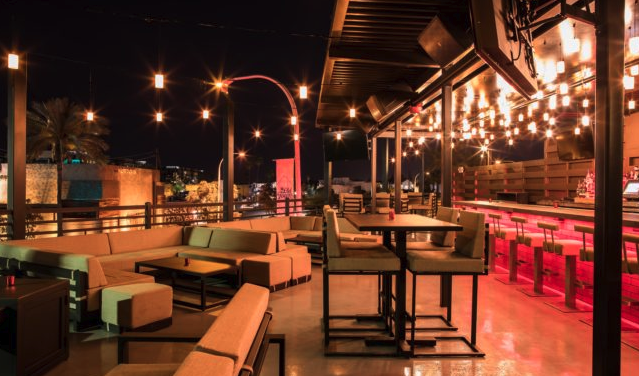 Rooftop bar hopping is a must during the cooler months in Scottsdale, Arizona – which is kind of right now. Whether you are looking for something a bit more low-key or something bougie to enjoy a splurge with the girls, there is a bar with a view for everyone on this list: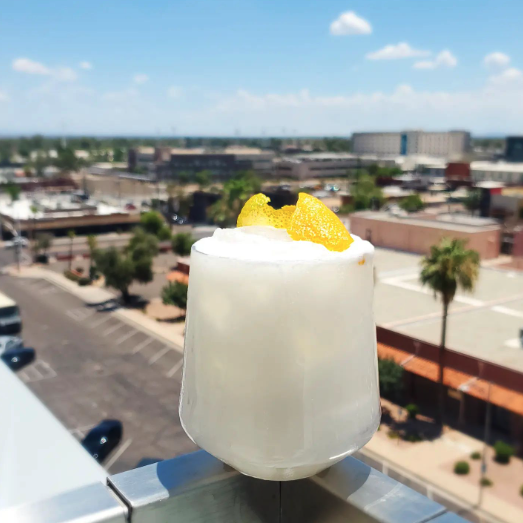 7142 E. 1st St.
When I think of rooftop bar options in Scottsdale, Outrider is the first one that comes to mind. Here, you get a great view of Camelback Mountain and Old Town Scottsdale. You also get a variety of cocktails, wines, draft beers, and even seltzers! I'm a fan of Mezcal so my choice is also going to be the Paradisis with Mezcal, raspberries, lemon juice, and Giffard Pamplemousse. For those visiting in the late Spring or Summer try one of their famous slushies! They rotate flavors weekly, so be sure to ask your server which ones are available when you're there. They also have some non-alcoholic drink choices for the Designated Driver in your group including a CBD-infused sparkling water, flavored coconut waters, and an alcohol-free beer.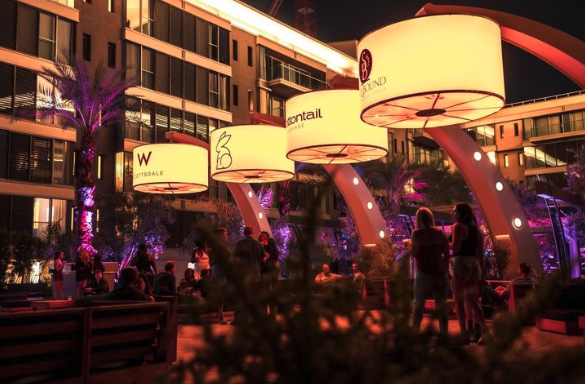 7277 E Camelback Road
Located on top of the W Hotel in Scottsdale, here you get access to the W's Wet Deck, which features rooftop pools, outdoor bar seating, and popular, visiting DJ's that are all set up to create the perfect pre-grame or all-night vibe for your upcoming night out in Old Town. Check out their "Rabbit Hole" Thursday's, which offer an extended Happy Hour with lower pricing from 4:00 PM to 10:00 PM every Thursday. Currently, their featured drink is their famous Espresso Martini which will offer the perfect pick-me-up before hitting the clubs. They also offer basic bar snacks like Tuna Hanabi, calamari, tempura vegetables, and the extra special Truffle Kennebec Fries. All of which are included in that Happy Hour pricing.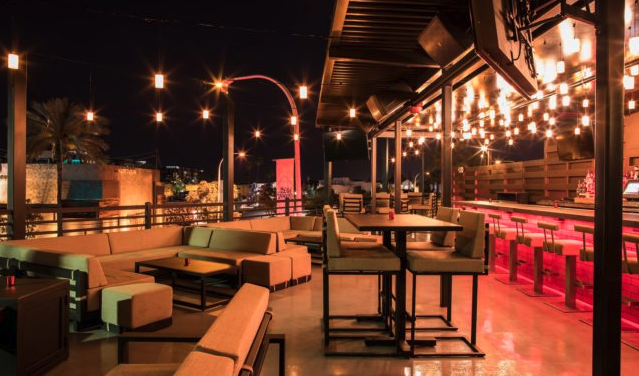 4312 N Brown Ave
Make your way upstairs to the large patio-style balcony that sits on the second floor of The Social Tap. Before it gets too hot, check out their brunch menu served from 9:00 AM to 2:00 PM on Saturday's and Sunday's. Here you can get the popular "Brunch Board", which serves up pancakes, waffles, french toast, and free fruits and berries Charcuterie-style. Pair it with one of their champagne specials to start your Bachelorette party off right! For the boys, you can get the "Hangover Package" for your morning-after brunch which includes 1 bottle of Pinnacle Vodka, 1 bottle of Bloody Mary Mix, olives, 6 breakfast burritos, and a platter of tots – all for only $95. Pretty solid deal, when it comes to Old Town pricing.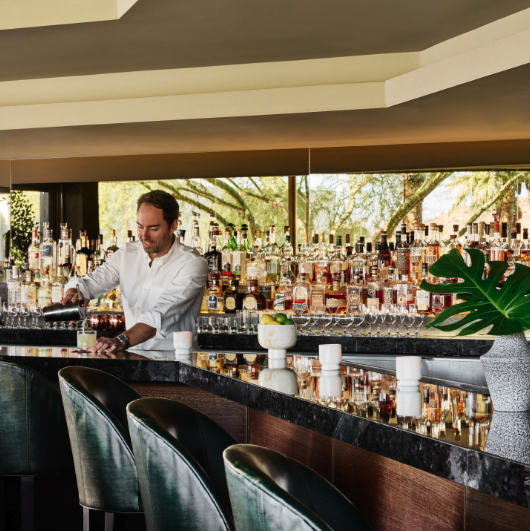 5700 East McDonald Drive
If you are looking for a more elevated rooftop experience to enjoy in Scottsdale, look no further than the Jade Bar at the Sanctuary Resort at Camelback Mountain. You can't go wrong with a burger, but you especially can't go wrong with the Jade's American Wagyu Burger. What makes this burger is the high-quality ingredients and "fancy" sauce. Normally, I'm a Mezcal and Tequila fan, but "The Holstein" features gin, grilled pineapple, cinnamon, and brown butter and is decadent without being overpowering. It has some pretty unexpected flavors for a gin cocktail and thus a fun way to switch it up. If you are a die-hard Tequila drinker the "Lost Dutchman" features tequila and guava juice, with turmeric, vanilla, and saffron elements, and is a delicious choice as well. Happy Hour is Monday through Thursday, 4:00 PM – 6:00 PM.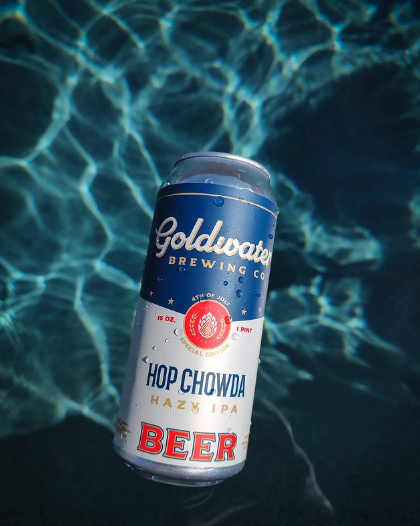 3608 N. Scottsdale Rd.
Yes, Goldwater Brewery isn't a bar exactly but it does have a very casual, very cool little rooftop area on its back patio. Pick up a beer in the taproom and then walk it through the back patio until you find a small staircase that leads up to a narrow seating area with bar stools and high-top tables. This is the perfect day-drinking spot. Chad and Dillon McClelland opened up this boutique brewery under the guidance of their father in 2015. Together with business partner Jimmy Disken they made the brewery a staple of the Old Town drinking scene. Now they have three tap rooms, with the other two in Mesa and Tempe, but this location is the favorite because of the patio space. Right now, you can get their Hazy Gates Hazy Pale Ale inspired by the San Francisco Giants fans as they take over Old Town for Spring Training. Their signature Hop Chowda Hazy IPA is another favorite with a cute Campbell's soup-inspired design.
---
There are other Rooftop bar options throughout the Phoenix area, especially as you make your way into Central and Downtown Phoenix. You can't go wrong, but I will say that these are definitely the top choices for Scottsdale to get your drink on. Enjoy!
---
Editor
March 14, 2023
Dining, Scottsdale