Best Bars in Scottsdale for a Holiday Cocktail
Editor
December 12, 2022
Drinks, Scottsdale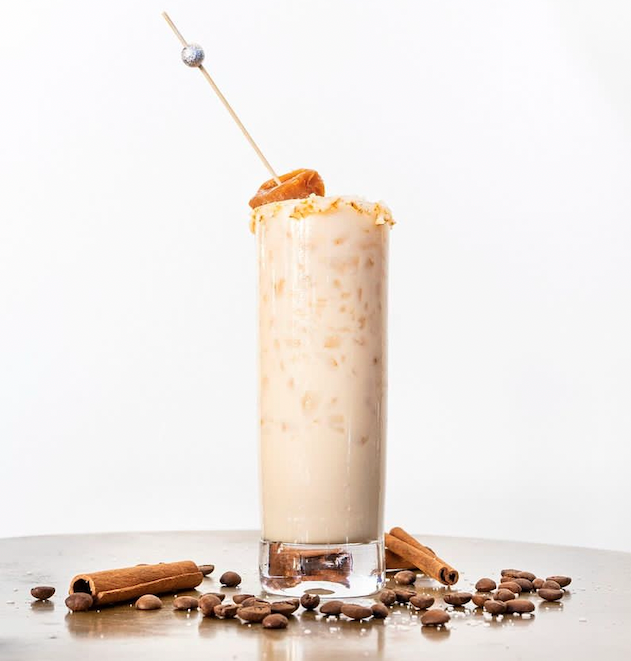 It's that time of year when we all are looking for those comforting flavors that remind us of family, home, and presents! We're all wanting those hints of peppermint, caramel, apple, nutmeg, cinnamon, etc, in every treat, even cocktails! At least I, definitely, am.
So as a special gift just for you, I have put together a list of my top bars and cocktail lounges, where you can find those winter-inspired drinks to fill all your nostalgic, holiday cravings all season long! You're welcome and Happy Holidays!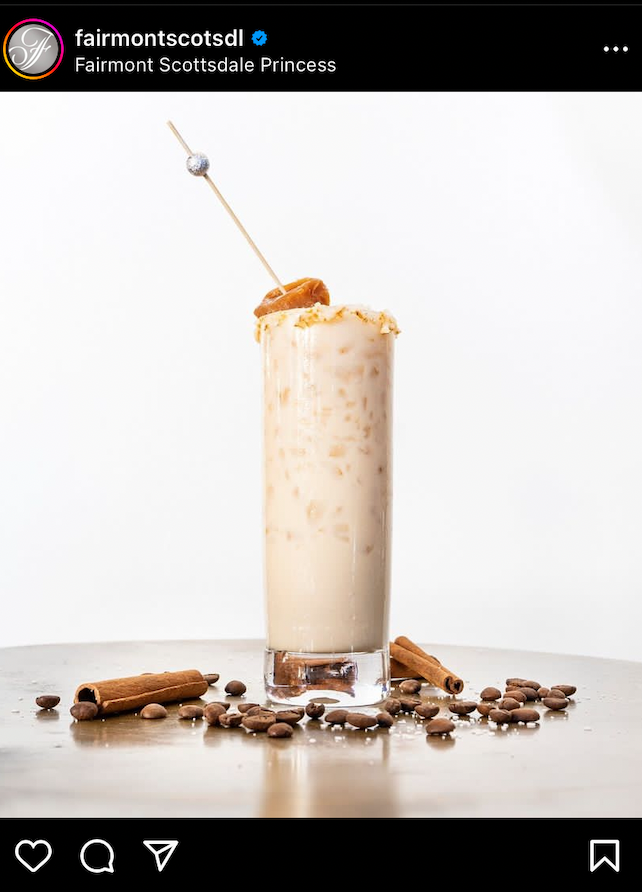 Christmas at The Fairmont Scottsdale Princess
7575 E Princess Dr.
Grab a Winter Wonderland cocktail at Kringle's Kup pop-up cocktail bar and enjoy Christmas at The Princess with over 6 million Christmas lights, a gigantic Ferris Wheel, ice skating, fair rides for the kiddos, and a chance to hang out with Santa Himself. Throughout their Winter Wonderland, there are also food pop-ups and stands for the whole family to enjoy.
They are hosting a signature winter cocktail this year with the "Winter Bliss". This winter, wedding drink has vodka, cold brew, cream, caramel syrup made in-house, and a cinnamon stick (pictured above).

I also have to mention The Plaza Bar inside the resort which features "Rococo" cocktails that are self-described as "highly ornamental & theatrical". I'm also dying to try their Tuna Tostada, which sounds like a perfect Sonoran-inspired appetizer for any time of the year.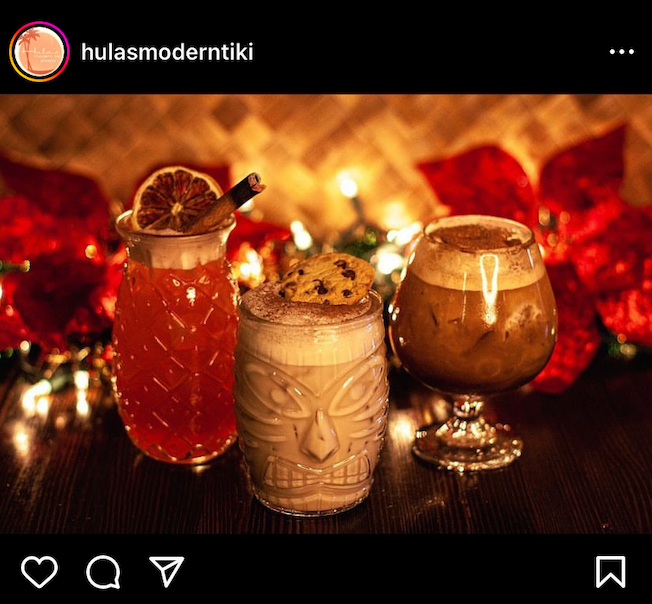 7213 E 1st Ave.
All December long you will find holiday cocktails at Hula's! As part of their HULA-days series, they host three (3) signature holiday cocktails to fuel your festive spirit.
There is the "Milk for Santa" with brandy, Bacardi Rum, Kahlua, and milk, which definitely catches my eye. You can also check out "Turbo Time" with bourbon, coffee liquor, winter spice syrup, bitters, and vanilla cold foam. And last but not least, try the "Yippee Ki Yay" with rum, Allspice Dram, apple cider, lemon, thyme, pineapple, cranberry bitters, and ginger beer.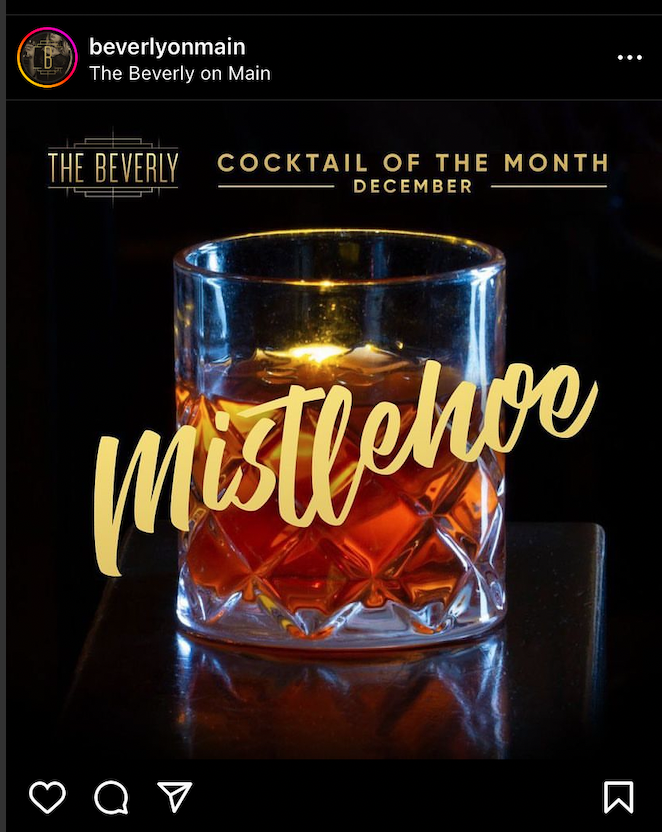 7018 E Main St
Try their December "Cocktail of The Month", "The Mistletoe", at this trendy, yet intimate, hot spot in Old Town Scottsdale. This is the perfect drink to start your night out with friends or a new date in Old Town. You and your crew can even rent the private and secret back room for your Christmas festivities or a holiday work party.
But back to the cocktail; "The Mistletoe" features Sweet Vermouth, Rye, Cognac, Cynar, and Golden Falernum in a short, stout glass that is sure to make you feel both sexy and cozy.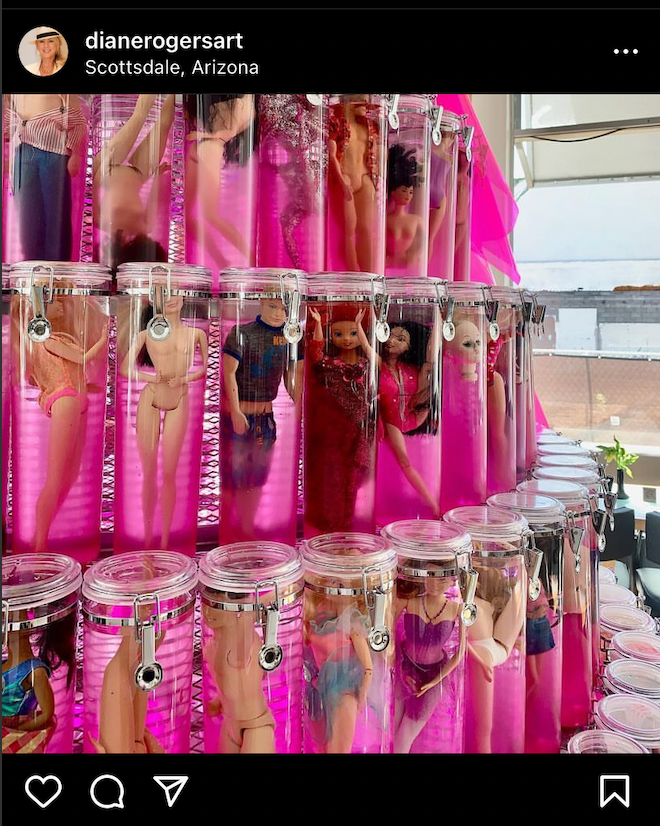 7353 Scottsdale Mall
At AZ88, you are guaranteed to find a signature martini and a good time. I close out my list with AZ88 because of their Instagram-worthy, Barbie-themed, Christmas tree made up of 283 vintage Barbie and Ken dolls, originally designed by artist, Diane Rogers. Just make sure to get one of their famous and ridiculously named martinis while you're there. "The Fleurtini" sounds extra fun!
I also, of course, love a strong, home-made, holiday cocktail to share with my boyfriend in our PJ's, in front of the fireplace. If anyone has any fool-proof, winter cocktail recipes, let me know or add it in the comments!
---
Editor
December 12, 2022
Drinks, Scottsdale