Best Fine Dining Restaurants in Scottsdale
Editor
March 17, 2023
Dining, Scottsdale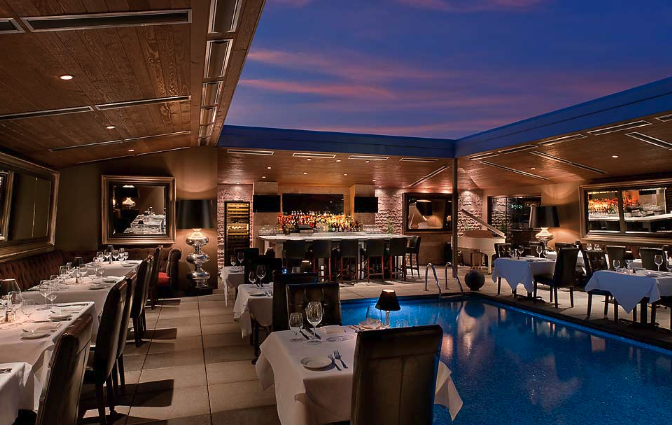 There is no shortage of fine-dining options in Scottsdale Arizona. Whether you are staying in the historic district of Old Town or checking out the more modern vibes and architecture of North Scottsdale, you will find a restaurant that serves up the perfect pairing of ambiance and taste – and it will cost you a pretty, but worthwhile penny.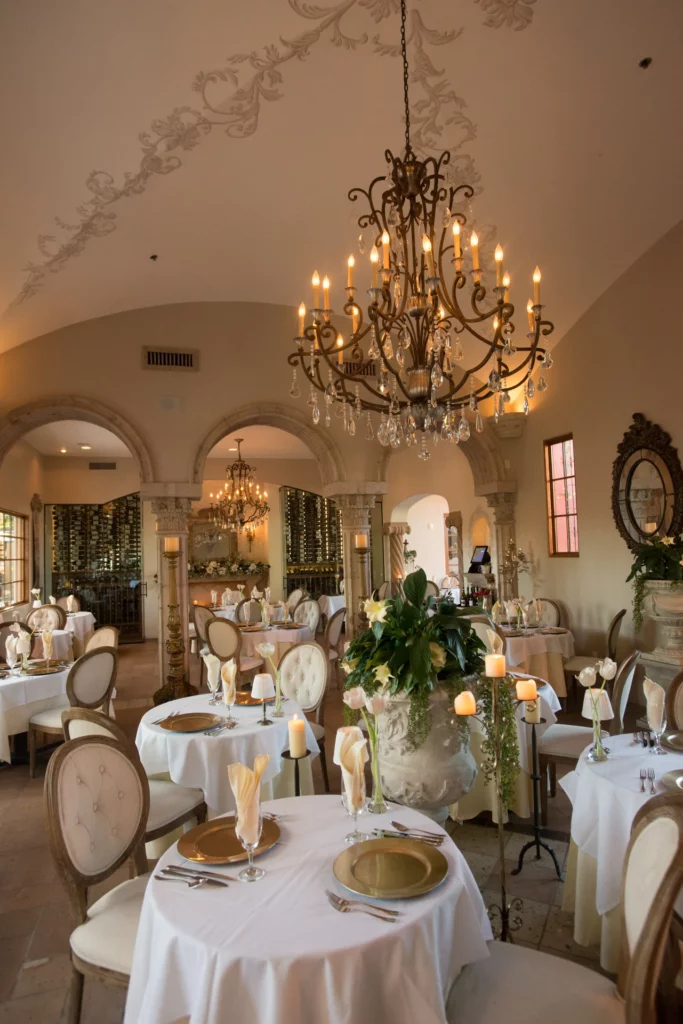 6939 E 1st Ave
Cafe Monarch is listed as one of the "Top Three Fining Dining Restaurants in the Nation" by Trip Advisor in 2022 and as soon as you walk into the doors you can see why. The location in Old Town Scottsdale is beautiful with an old-timey, classic feel with white tablecloths, ornate decor, chandeliers, and candles everywhere. Kind of makes you feel like you're in Bordeaux, France at a very fancy wedding. There is a dress code that requires collared shirts for men and no children under the age of 10 are allowed to dine here, so just some things to keep in mind. At Cafe Monarch, the cuisine is five-star rated with a constantly changing four-course dinner menu with selections that include tuna, pork belly, lamb, duck, and all the seafood your heart could desire. But the real star is the wine as each server is training under the "Court of Master Sommeliers" program. The restaurant was awarded the "Best of Award of Excellence" by "Wine Spectator" from 2018 to 2022. They even host wine dinners for you to enjoy that are tailored to a specific wine or beer vendor and can be long enough to include 7 courses with wine pairings!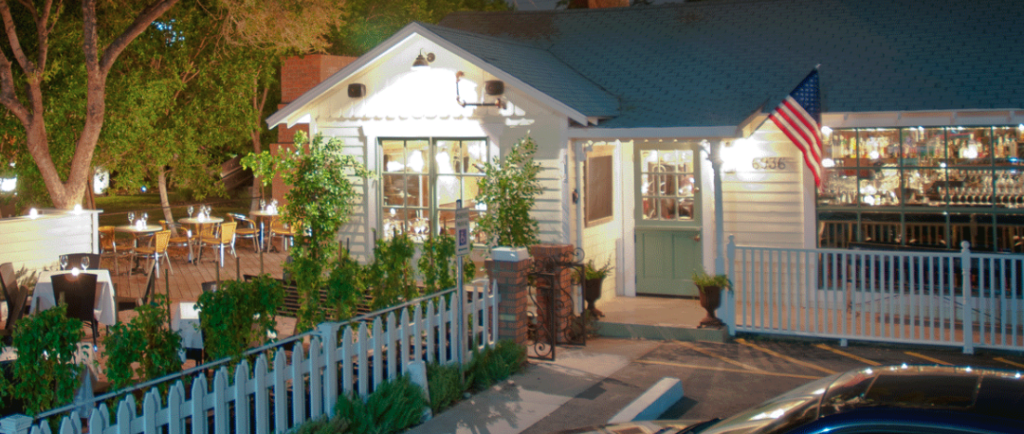 6936 E Main St
A little white house with the idyllic white picket fence in Old Town Scottsdale might not seem like one of the better fine-dining options in Old Town, but it definitely is. The house was built in 1939 by the Mowry family and still has the original exterior. You can even see one of the original rose bushes planted and owned by Mrs. Mowry that was transplanted onto the Hotel Valley Ho property for preservation. The dining room of The House gives true Victorian vibes, but I prefer the outdoor patio that lets you people watch and enjoy the nearly perfect weather we've been having this month. The French-influenced menu starts with a Chef's Choice, but this menu is not pre-set so you can choose from an array of appetizers, salads, entrees, steaks, sides, and desserts. Try a "Linz Umami 28-Day Dry Aged Ribeye Steak" and add a "Dungeness Crab Cake – Oscar Style" to have the ultimate Surf and Turf meal.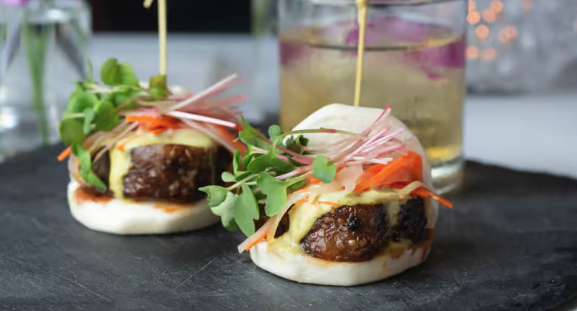 7044 E Main St.
"Sel" is French for "salt". Sel is owned by a husband and wife duo, Check Branden and May Levine. Here you can decide between an innovative Chef's Tasting or a Vegetarian Tasting for only $120 a person with an additional $100 wine pairing if you are an emerging wine connoisseur – I mean who says no to wine? The Chef's tasting menu is ever-changing but includes four courses and a dessert. Some of the current offerings on the Chef's tasting menu include a scallop crudo, rabbit loin, grilled Tiger Prawns, and a choice between Spanish octopus, salmon, filet mignon, and a lamb chop. You can also check out Sel's seasonal Sunday brunch, which features a three-course menu and is held on Sundays from 10:00 AM to 2:00 PM. This is $65 a person and does not include drinks. For brunch, I think the "Braised Pork Belly Tostada" with a coconut Jam or the "Korean-style Beef Short Rib Steam Buns" sounded the most interesting to me. But you can also get an "Imperia Royal Ossetra Caviar" dish as a supplemental Brunch course if you're feeling real bougie.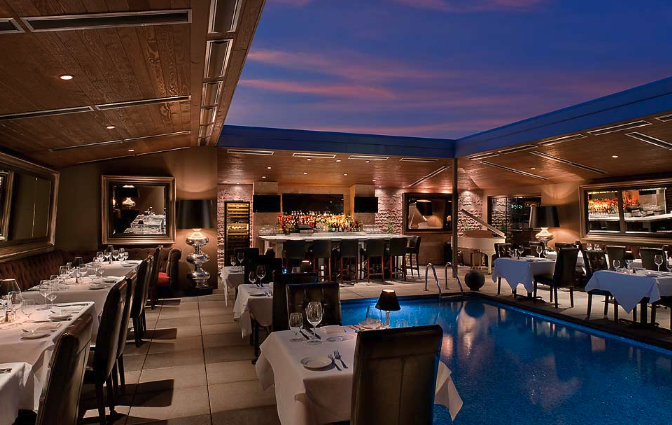 15169 N Scottsdale Rd
Dominick's is brought to you by the same Mastro family, whose steakhouses glitter and sparkle across the Scottsdale area. They are even mentioned twice on this list! What makes this spot special is the open-air rooftop seating area that overlooks Scottsdale Quarter and features a rooftop pool. No, they don't allow swimming here but it definitely adds an upscale touch to accompany the views of the Arizona sky. Extra points if you get a table at sunset. Go big with the "45-Day Dry Aged Bone-in Ribeye", "Alaskan King Crab and Shrimp Mac and Cheese" and brussel sprouts. You can always sub the brussels with a Dominick's caesar salad that uniquely boasts a warm poached egg. Couple your meal with a bottle from their excellently curated wine list and you've got a date night to remember. There is a dress code, which doesn't permit athletic wear, graphic t-shirts, baseball caps, or exposed undergarments, just for you to keep in mind when marking your calendar for a visit.

17797 N Scottsdale Rd
The Americano has two locations in the United States, one here in Scottsdale and the other in Atlanta, Georgia. The vibe here is definitely modern and simultaneously both dark and vibrant with gold and neon accents to accompany the muted furniture. They have an open-style kitchen for you to get a "VIP" look into the artistry of the chefs here. This is an Italian-inspired Steakhouse led by Chef Scott Conant. Here you not only get the best steak offerings, but you can also choose a pasta made in-house or a Mediterranean-style seafood option. For wine, choose between 200 labels all either from Italy or the United States. Most importantly, unlike the other picks on this fine-dining list, they have a happy hour! Every day from 4-6 PM you can sit in the bar and lounge area and get a $9 glass of red, white, or rosè specifically picked by a Sommelier. You can also get some raw oysters, salmon tartar, or a small order of mac and cheese.
---
So, I do have to keep this list short. But, some other honorable mentions for amazing and extremely curated fine-dining experiences that I just have to mention are:
Any of these choices are wonderful options to impress a date or family member coming from out of town or even for a luxurious night out with your friends. All of which can be an excuse to celebrate life and treat yourself a little.
---
Editor
March 17, 2023
Dining, Scottsdale